I finally saw the Diamond Fund! For anyone who wants to guarantee herself tickets, go at 10:30AM on a Tuesday morning. The guards will laugh at you because they are bored (especially if you have a fork in your purse ... yes, that happened and no, I don't know why I had a fork in my bag), but seeing the most prized Russian jewels without crowds is very much worth the ridicule.
Great Imperial Crown
Peter the Great started the Diamond Fund after seeing similar collections on his travels in Europe. He issued a proclamation that ordered each of his successors to leave some of their jewels to the state. The Diamond Fund was originally located in the Winter Palace in St. Petersburg, but was moved to Moscow in 1914 to be kept safe from the invading German Army. Through Russia's revolution and years of Civil War, the collection was forgotten in an underground vault. In 1927, the vault was reopened. However, at the time, the Soviet economy was struggling. The next year, 2/3 of the collection was auctioned off.
After the fall of communism, the collection was opened to the public. Some of the highlights include Catherine the Great's Imperial Crown, the world's largest sapphire, and the Orlov Diamond.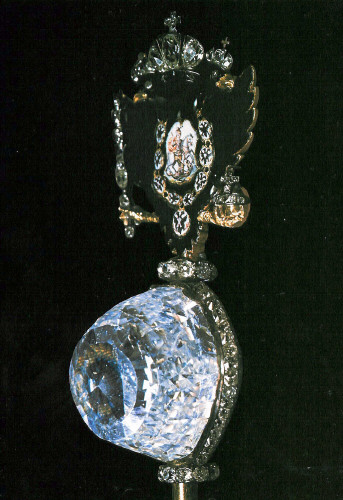 Orlov Diamond
Now, I am working on my paper! Just one more paper and an exam to go!